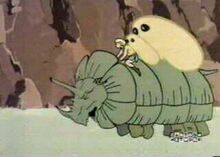 Tundro is fictional characters from the animated show, The Herculoids.
A ten-legged, four-horned rhino/triceratops hybrid. He can shoot explosive energy rocks from his cannon-horn (Zandor, Tara, and Dorno also occasionally shoot similar rocks with slingshots). His natural armor-plating is exceptionally strong, similar to Igoo's rock skin. His legs have the ability to extend to a remarkable length, somewhat like stilts.
He can also spin his head at blinding speed, allowing him to drill through solid rock, and has the ability to make magnificent leaps.
Community content is available under
CC-BY-SA
unless otherwise noted.