Jurassic World: Dominion Dominates Fandom Wikis - The Loop
Play Sound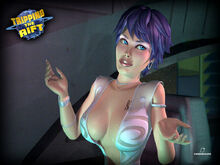 Six of One is a character in Tripping the Rift, an adult CGI science fiction comedy television series. It is based on two short animations published on the Internet by Chris Moeller and Chuck Austen. The series was produced by CineGroupe in association with the Sci Fi Channel. It did very well in ratings; however, because Sci Fi didn't have a major 18-34 demographic coming to the network regularly and Sci Fi was not seen as a source of comedy programming, the network decided to postpone ordering more episodes. CineGroupe continued producing the series for the other North American and International broadcasters.[1] The series aired on the Canadian specialty channel Space in 2004. Canada's cartoon network Teletoon has been airing the series since August 2006. The third season aired on Teletoon in 2007, and a feature-length movie version was released on DVD in 2008.

She is voiced by Patricia Beckmann and Terry Farrell in the pilot (two versions), Gina Gershon in season 1, Carmen Electra in season 2 and Jenny McCarthy in season 3.
She is a cyborg that was designed as a sex slave. She acts as the ship's science officer, thanks to a programming upgrade by Chode; much to his chagrin, this upgrade has also given her a conscience and sense of decency, in spite of her openly sexual nature. She often gets the crew out of trouble by using her erotic attributes and skills in bed. The final episode of the second season revealed that she was modeled after a stripper named "Haffa Dozen" (voiced by Patty Hearst), who later switched to a life of crime.