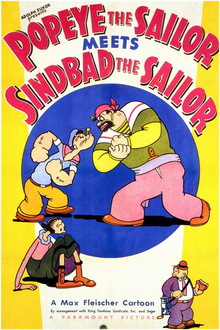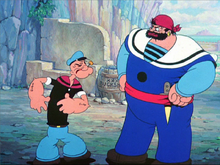 Popeye the Sailor Meets Sindbad the Sailor
Popeye the Sailor Meets Sindbad the Sailor is the 41st Popeye cartoon and the first of the three Popeye Color Specials.
A two-reel animated cartoon short subject, it was produced in Technicolor and released to theaters on November 27, 1936 by Paramount Pictures, produced byMax Fleischer for Fleischer Studios, Inc. and directed byDave Fleischer, with musical supervision by Sammy Timberg. The voice of Popeye is performed by Jack Mercer, with Mae Questel as Olive Oyl and Gus Wickieas Sindbad the Sailor.
Plot
[
]
In this short, Sindbad the Sailor (actually Bluto, in one of his various incarnations to oppose Popeye) proclaims himself, in song, to be the greatest sailor, adventurer and lover in the world, a handsome bloke, and "the most remarkable, extraordinary fellow," a claim which is challenged by Popeye's arrival on his island with Olive Oyl and J. Wellington Wimpy in tow. Sindbad orders his huge Roc, Rokh, to kidnap Popeye's sweetheart, and treats the squinty-eyed sailor to a series of challenges to prove his greatness, including fighting Rokh, a two-headed giant named Boola, and Sindbad himself. Popeye makes short work of the bird and the giant, but Sindbad almost gets the best of him until the spinach-gulping Sailorman produces a can of his nutritious greens, which gives him the edge to soundly defeat Sindbad and proclaim himself "the most remarkable, extraordinary fellow."
Trivia
[
]
A subtly dark running gag features hamburger-loving Wimpy chasing after a duck on the island with a meat grinder, intending to slaughter it and grind its meat so that he can fry it up into his favorite dish, but the duck not only escapes, but also snatches away Wimpy's last burger in retaliation after he gives up.
Many of the scenes in this short film make use of the Fleischer's Tabletop process, which used model sets to create 3D backgrounds for the cartoon.