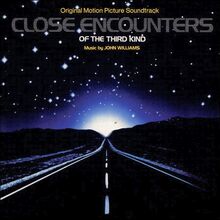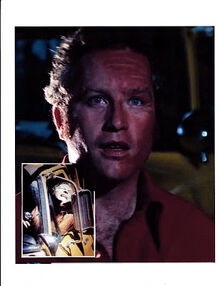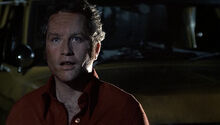 Character in film Close Encounters of the Third Kind
Close Encounters of the Third Kind is a 1977 American science fiction film written and directed by Steven Spielberg and features actors Richard Dreyfuss, François Truffaut, Melinda Dillon, Teri Garr, Bob Balaban, and Cary Guffey. It tells the story of Roy Neary, an everyday blue collar worker in Indiana, whose life changes after an encounter with an unidentified flying object (UFO).
Roy Neary an electrical lineman in Indiana who encounters and forms an obsession with unidentified flying objects. Steve McQueen was Spielberg's first choice. Although McQueen was impressed with the script, he felt he was not specifically right for the role as he was unable to cry on cue. Dustin Hoffman, Al Pacino and Gene Hackman turned down the part as well.[3] Jack Nicholson turned it down because of scheduling conflicts. Spielberg explained when filming Jaws, "Dreyfuss talked me into casting him. He listened to about 155 days' worth of Close Encounters. He even contributed ideas."[4] Dreyfuss reflected, "I launched myself into a campaign to get the part. I would walk by Steve's office and say stuff like 'Al Pacino has no sense of humor' or 'Jack Nicholson is too crazy'. I eventually convinced him to cast me."[3]
Community content is available under
CC-BY-SA
unless otherwise noted.