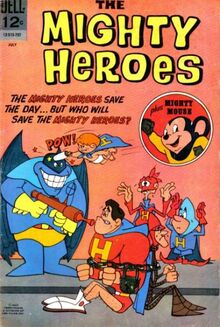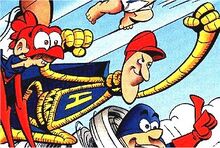 The Mighty Heroes was an animated television series created by Ralph Bakshi for the Terrytoons company. The original show debuted on CBS, on October 29, 1966, and ran for 1 season for 21 episodes.[1]
The series is set in Good Haven, a city that is continually beset by various supervillains. When trouble occurs, the city launches a massive fireworks display to summon a quintet of high-flying superheroes into action.
Rope Man is a sailor who works at the Docks. A very erudite fellow with a light British accent, Rope Man's body is a seemingly unending length of rope. He can use his hands likelassos, and can even weave himself into a net. The drawbacks to his powers are that he often gets tangled up or knotted, not rarely around his own teammates. He also tends to talk too much.
Community content is available under
CC-BY-SA
unless otherwise noted.