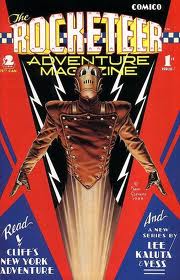 The Rocketeer is a fictional character, a superhero created by writer-illustrator Dave Stevens. The character first appeared in 1982 and is an homage to the Saturday matinee serial heroes of the 1930s, 1940s and 1950s.[2]
The Rocketeer is the secret identity of Cliff Secord, a stunt pilot who discovers a mysterious jetpack that allows him to fly. His adventures are set in Los Angeles and New York in 1938, and Stevens gave them a retro, nostalgic feel influenced by the King of the Rocket Men movie serial, the syndicated Commando Cody TV series (both from Republic Pictures), and pinup diva Bettie Page.[3]
In 1991, The Rocketeer was released as a feature film by Walt Disney Pictures and was directed by Joe Johnston. Rocketeer creator Dave Stevens has a small cameo in the film as the German test pilot who dies when the Nazi version of a rocket backpack explodes during take-off. This was a part of black-and-white film footage stolen, then smuggled to the US of Nazi top secret rocket backpack testing.
Community content is available under
CC-BY-SA
unless otherwise noted.