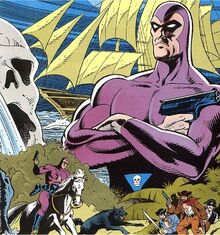 The Phantom is a comic strip created by Lee Falk (also creator ofMandrake the Magician), recounting the adventures of a costumed crime-fighter called the Phantom. The series began with a daily newspaper strip on February 17, 1936, which was joined by a colourSunday strip in May of 1939; both are still running as of 2006 and are read by millions of people every day. Lee Falk died in 1999, and the newspaper comics are now written by Tony DePaul and drawn byPaul Ryan (daily strip) and Graham Nolan (Sunday strip). Previous artists on the newspaper strip include Ray Moore, Wilson McCoy, Bill Lignante, Sy Barry, George Olesen, Keith Williams and Fred Fredericks. The Phantom is also successfully published in comic books throughout the world, by several different publishers.
The Phantom is credited as being the first "costumed superhero", i.e. the first crimefighter to wear the skintight costume attributed to comic book superheroes, and being the first hero to have white eyes behind his mask, a phenomenon very common with superheroes. Previous fictional crime fighters, such as Zorro andDoc Savage, were not designed especially for newspaper comic strips or comic books.
Community content is available under
CC-BY-SA
unless otherwise noted.