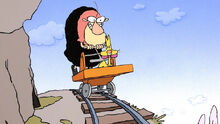 Mr. Johnson the character of movies The Cat Came Back
The Cat Came Back (1988 film) Edit
The Cat Came Back is a 1988 animated film by Canadian director Cordell Barker, produced by fellow award-winning Winnipeganimator Richard Condie. Based on the children's song "The Cat Came Back", it concerns the increasingly desperate Mr. Johnson, an old man who attempts to rid himself of a small, yet extremely destructive, yellow cat that will not leave his home. The attempts to get rid of the cat become more comical, and the cat becomes increasingly destructive, until Mr. Johnson resorts to an explosive solution. The result is a twist ending playing on the end of the children's song, with the cat's nine lives bedeviling Mr. Johnson for eternity.
Produced in Winnipeg by the National Film Board of Canada, the film garnered over 15 awards, including a Genie Award for Best Animated Short,[1] as well as an Academy Award nomination.[2] It was also chosen for inclusion in animation historian Jerry Beck's 50 Greatest Cartoons, placing at #32.[3] It was also included in the Animation Show of Shows.
Community content is available under
CC-BY-SA
unless otherwise noted.