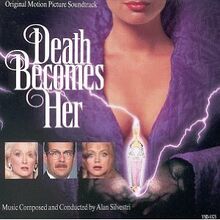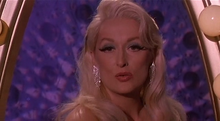 Character in film Death Becomes Her
Death Becomes Her is a 1992 American dark comedy fantasy film directed by Robert Zemeckis and scripted by David Koepp and Martin Donovan. Starring Meryl Streep, Bruce Willis, Goldie Hawn and Isabella Rossellini. The film focuses on a childish pair of rivals who drink a magic potion that promises eternal youth.
Madeline Ashton is one of the two protagonist villains in the black comedy film Death Becomes Her, alongside her rival Helen Sharp - she begins as a vain actress who regularly abuses her hapless husband Ernest but becomes obsessed with beauty and youth to the point she accepts an invitation to meet a strange woman who turns out to be an immortal witch who gives her a potion that grants her similiar immortality (for a high sum of money).
Madeline's immortality comes at a heavy price however when she abuses Ernest once more, driving him to push her down the stairs - breaking her neck (amongst many other bones) - only for her to survive in an undead state (similiar to a revenant or zombie).
Community content is available under
CC-BY-SA
unless otherwise noted.