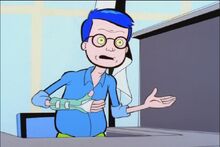 Character in film Mission Hill
Mission Hill (originally titled The Downtowners)[1] is an American animated television series that ran on The WB from September 24, 1999, to July 16, 2000, and on Adult Swim from July 14 to August 11, 2002. Although 18 episodes were planned, only 13 episodes were produced. The show was put on hiatus by the WB Network after two episodes due to poor ratings. It returned to the WB in the summer of 2000 but was canceled after four additional episodes. The show went on to develop a cult following, thanks to repeated airings of all 13 episodes on Teletoon's "Teletoon Unleashed" block, Cartoon Network's popular late night programing block, Adult Swimand Too Funny To Sleep, a late night programing block on TBS. Mission Hill was formerly known as The Downtowners, although MTV's production of the similarly titled Downtown forced a name change.
Kevin French (Scott Menville) – 17 years old. Kevin moved in with Andy when his parents left for Wyoming, bringing his sheltered, suburban mindset to Mission Hill. He hopes to attend Yale University. He has a habit of "bling-blonging", saying "bling blong" over and over again while doing homework to drown out any/all distractions and is prone to heavily overreact to trivial matters.
Community content is available under
CC-BY-SA
unless otherwise noted.