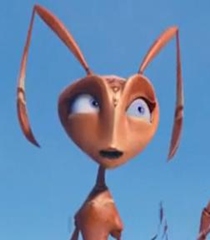 Character in film The Ant Bully
The Ant Bully is a 2006 American computer-animated film written and directed by John A. Davis based on the 1999 children's book of the same name by John Nickle. The film, featuring the voices of Zach Tyler Eisen, Julia Roberts, Nicolas Cage, Meryl Streep and Paul Giamatti, was produced by Tom Hanks and Gary Goetzman's Playtone, John A. Davis and Keith Alcorn's DNA Productions and released in movie theatres on July 28, 2006 by Warner Bros. and Legendary Pictures.
Hova is a nurse ant who is assigned to teach Lucas about the ways of the ant. She ends up being his closest friend in the colony. She is Zoc's girlfriend. She is a kind ant who believes that communicating with the humans will help benefit the colony and make the future for all ants brighter.
Community content is available under
CC-BY-SA
unless otherwise noted.