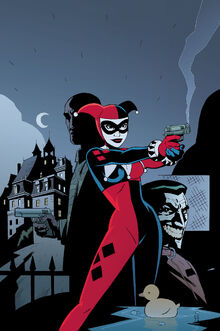 Harley Quinn (Dr. Harleen Frances Quinzel) is a fictional character, a super villain in the DC Universe. The character was introduced on September 11, 1992, in Batman: The Animated Series and later adapted into DC Comics' Batman comic books, first appearing in The Batman Adventures #12 (September 1993). As suggested by her name (a play on the word "harlequin"), she is clad in the manner of a traditional harlequin jester. The character is a frequent accomplice and girlfriend of Batman's nemesis the Joker, and is also close to the supervillain Poison Ivy, from whom she gained her immunity to poisons and toxins.
The character was created by Paul Dini and Bruce Timm and was originally voiced by Arleen Sorkin in Batman: The Animated Series and its tie-ins. The character was voiced by Hynden Walch in The Batman animated series and the 2014 film Batman: Assault on Arkham. In the Birds of Prey television series, she was portrayed by actress Mia Sara (and Sherilyn Fenn in an unaired version of the pilot episode). Throughout her animated depictions, she is shown to speak with a pronounced Brooklyn accent.
IGN's 2009 list of the Top 100 Comic Book Villains of All Time ranked Harley Quinn as #45.[1] She was ranked 16th in Comics Buyer's Guide's "100 Sexiest Women in Comics" list.[2]
Community content is available under
CC-BY-SA
unless otherwise noted.