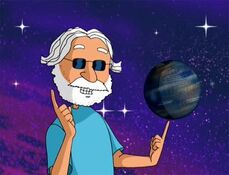 Character in film God, the Devil and Bob
God, the Devil and Bob is an animated sitcom which premiered on NBC on March 9, 2000 and ended on March 28, 2000, leaving nine episodes unaired. It was created by Matthew Carlson. It is currently broadcast on the Philippine channel Maxxx. The entire series was released on Region 1 DVD in the United States on January 4, 2005. Reruns of the series began airing on Cartoon Network's late night programming block, Adult Swim, on January 1, 2011 with the network airing the nine remaining episodes of the series from January 8 to March 26, 2011.
God (voiced by James Garner)[10] - The laid-back, beer-drinking deity, whose human appearance is visually styled on Jerry Garciaof The Grateful Dead. Though he is distressed with the state of the world and is considering destroying it and starting over, even going so far as to design a new universe where marsupials replace humanity and humanity "is somewhere down the food chain". He wants to give humanity a sporting chance. Though he and the Devil appear to have put much of their differences behind them, and are frequently seen socializing, God has a habit of constantly forgetting the devil's birthday. He often wears sunglasses and drinks light beer. He enjoys poptarts and spacefood sticks because of their convenience. Though he is normally invisible to everyone but Bob, children can also see him. He has guidance over people's souls until they are 12.
Community content is available under
CC-BY-SA
unless otherwise noted.