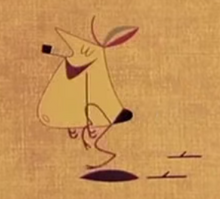 Ersatz is a 1961 Yugoslavian short animated film by Dušan Vukotić, produced by Zagreb Film, then a Yugoslav film production company. The film won an Academy Award for Short Subjects (Cartoons)in 1962.[2] The film is also known by several other names in other languages: Cypporar, Der Ersatz, Le Succēdanē and Surrogatto.
Plot
[
]
A man went to sea. From his car, he has brought many, small geometry, he uses an air pump inflates: It causes a tent, an air cushion and a small boat. An increase his personal connections are increasing their Angel, then to celebrate the capture. A woman's rise not appeal to him and he lets her out of the air; Monday it increases the bankruptcy, before he starts flirting with her. However, you refuse him and go swimming. The man then inflated shark water, he brutally killed and to win the hearts of women. The fire soon after a muscle-bound surfer through and man can only decide woman out of the air. Surfing committed suicide by pulling its plug.
The man returned to his stuff. He lets all the air from blowing into their cars and stacks of small numbers of vehicles. Also from the sea he deflates and packs it on. He blew on the street and went home. On the way to hide a nail, the last car deflation. The man was thrown through the air and remained lifeless. Its plug-soluble and fainted. Even small, the remaining triangles are finally suck.