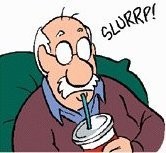 Pickles is a daily and Sunday comic strip by Brian Crane focusing on a retired couple in their seventies, Earl and Opal Pickles.[1][2] Inspired by Crane's in-laws,[3] the strip describes their efforts to enjoy retirement, which instead proves quite imperfect for both.
Earl is characterized as having a bald head, glasses, and a bushy white mustache, and wears suspenders. Opal is characterized as somewhat chubby, bespectacled, and is often seen wearing purple polka-dotted dresses and white sneakers. When sitting, she is usually seen with her pet cat in her lap. Both characters were drawn with their eye pupils visible through their glasses during the strip's early years, but their glasses were later whitened so that they are opaque to readers.
The comic is set in Crane's hometown of Sparks, Nevada. The cast includes their dog Roscoe and their cat Muffin; their grandson Nelson Wolfe and his parents– their daughter Sylvia and her husband Dan, a wildlife photographer.
Pickles has been published since 1990. In 2001, it was named best newspaper comic strip of the year by the National Cartoonists Society.[4] In 2013 he shared the Reuben Awardwith Rick Kirkman.[5]
Community content is available under
CC-BY-SA
unless otherwise noted.