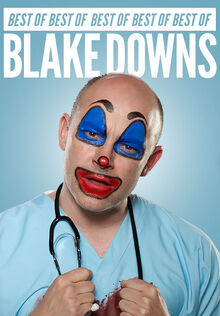 Character in film Childrens Hospital
Childrens Hospital is a satirical American comedy television series and web series that lampoons the medical drama genre, created by and starring actor/comedian Rob Corddry. The series began on the web on TheWB.com with ten episodes, roughly five minutes in length, all of which premiered on December 8, 2008.[1] Adult Swim picked up the rights to the show in 2009 and began airing episodes in 2010.[2]
Dr. Blake Downs (Rob Corddry) – he does his job while wearing clown makeup and surgical scrubs painted red in order to appear bloody. He believes in "the healing power of laughter," instead of medicine. The character's outlook on medicine seems to parody Robin Williams' character in the film Patch Adams. His frightening clown makeup often scares the child patients, very similar to the style of "Pogo the Clown," serial killer John Wayne Gacy. It is implied in season 2, episode 4 ("Give a Painted Brother a Break") that he considers being a clown his race, and his name is really "Mr. Bojiggles," a reference to Bill "Bojangles" Robinson. Due to the death of (fictional) actor Cutter Spindell, the character gets brutally killed at the end of season 4. At the beginning of season 5, Dr. Blake Downs is revived (apparently the hospital has a series of cloned clown doctors who are taught 'Blake Downs's' history, so that when one dies another is activated) and rejoins his fellow doctors. (At this point, the part is 'taken over' by (fictional) actor Rory Spindell (also Rob Corddry).