Character in film Crank Yankers
Crank Yankers is an American television show produced by Adam Carolla, Jimmy Kimmel and Daniel Kellison that featured actualcrank calls made by show regulars and celebrity guests, and re-enacted onscreen by puppets for a visual aid to show the viewer what is happening in the call. The show premiered in 2002 on Comedy Central and returned to MTV2 on February 9, 2007, running again until March 30, 2007. The show screened in Australia on SBS Television and The Comedy Channel between 2003 and 2008
Dick Rogers (Seth MacFarlane): A stereotypical fast-talking 1940s detective whose sketches appear in black-and-white. He'll often call to complain about issues that would make someone from the 1940s uncomfortable, such as being hit on by men at a gay bar or getting a haircut from a female hairdresser. He also calls the YMCA for help with his alcohol problem.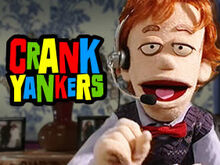 Community content is available under
CC-BY-SA
unless otherwise noted.