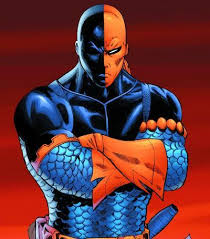 Deathstroke the Terminator (also known as Deathstroke, his name Slade Joseph Wilson, or formerly the Terminator) is acomic book supervillain, and sometimes antihero, who appears in books published by DC Comics. The character was created by Marv Wolfman and George Perez. He is a mercenary and assassin who first appeared in The New Teen Titans (vol. 1) #2 (1980).[1] Wizard Magazine rated him the 24th greatest villain of all time and the 32nd greatest comic book character of all time.[2] Also, in 2009, Deathstroke was ranked as IGN's 32nd greatest comic book villain of all time.[3]
Originally a villain for the Teen Titans, writers have developed him over the years as an antagonist for the older heroes Batmanand Green Arrow as well, establishing parallels between him and Batman and a deep-seated grudge between him and Green Arrow. His role as a villain for Batman and Green Arrow is reflected by his prominence in Batman video games and animated films, and in the Arrow television series.
Community content is available under
CC-BY-SA
unless otherwise noted.