Brown Bear, Brown Bear, What Do You See? is a children's picture book published in 1967.[1] Written and illustrated by Bill Martin, Jr. and Eric Carle, the book is designed to help toddlers associate colors and meanings to objects.
The book itself has little to no plot. Instead, the narrator asks various animals what they see with the response usually being another animal, the respondent is then asked what they themselves see, and the process is repeated. It features a Brown Bear, Red Bird, Yellow Duck, Blue Horse, Green Frog, Purple Cat, White Dog, Black Sheep, a Goldfish, a Teacher or a Mother, and Students orChildren. The 1984 British edition of the book substitutes a monkey for the teacher. Carle explained that variations in text between editions (mostly on the last page) were due to Martin, and that he made new illustrations to go with the changes.[2]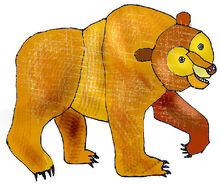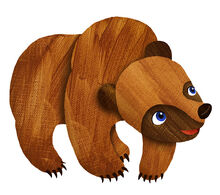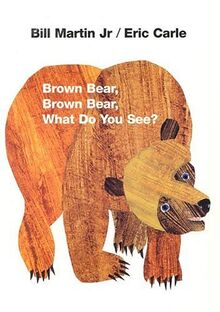 Community content is available under
CC-BY-SA
unless otherwise noted.